Mendell Morgan, the public library director, thought about closing on Wednesday, out of respect for those who'd lost their children. Ultimately he decided to keep the library open. He wanted to show his community what, in his view, a library really is.
"A refuge. A safe place. An escape."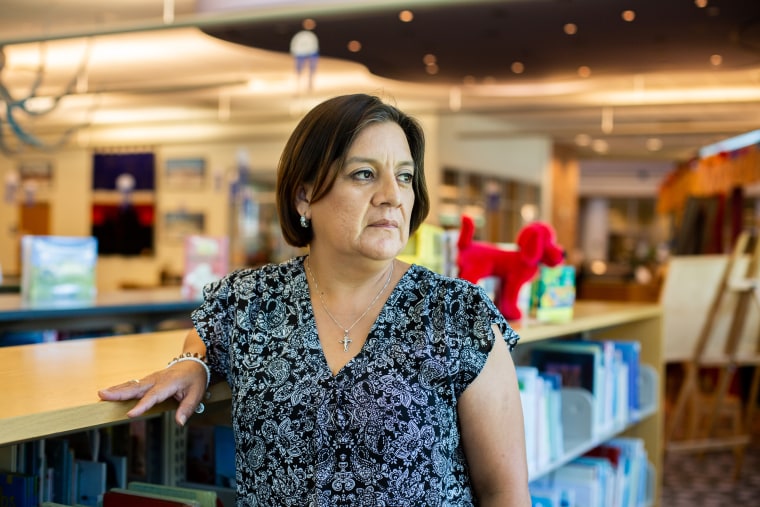 Every Wednesday at El Progreso Memorial Library in Uvalde, the children's librarian, Mrs. Martha Carreon usually does story time for young children, but she didn't know if she could do it that day. "I felt like it was going to be too much to look at those little faces. I didn't think I would be able to bear it."
About 24 hours later, Carreon stood in front of a group of 10 smiling faces, struggling not to cry as the children giggled and sang along with her.
600 Books of Hope for The Children of Uvalde
Carreon's wish to create a safe space for children and community after the mass shooting at Robb Elementary School, inspired @pinatadirector, children's book author e.E. Charlton-Trujillo, founder of the nonprofit Never Counted Out, to organize a book drive called 600 Books of Hope.
"600 Books of Hope is an opportunity for us as a community of artists and writers, along with the companies that publish us, to embrace the children of Robb Elementary School. My goal is to collect a minimum of 600 books of hope which would ensure that every child there would receive one book. One tangible thing they can take with them that might shine a ray of promise in their unbearable darkness. My ideal goal is to collect an additional 1,300 books to gift to the town's remaining K-6 schools: Anton Elementary, Benson Elementary, Dalton Elementary, and Sacred Heart, knowing they too suffer the consequences. This would allow for every grade school kid in Uvalde to have at least one book, one token of hope to grab onto."
We sent a note to e.E. to find out how to best participate and received this email in response.
Thank you for reaching out. I am so grateful to our community of librarians, authors, illustrators, and publishers who are showing up for the kids of Uvalde. People across America, Canada, and elsewhere have messaged, making this goal achievable. It's truly a beautiful thing…

… In a time where we can feel powerless and overwhelmed, we as a community are shining the light of what we do into the hearts of those we create for. By doing that, we are giving these children a safe place to be held. To feel seen. To feel hope. I am so grateful to you for that.

e.E. Charlton-Trujillo
Author . Filmmaker . Literacy Activist
If you would like to sponsor a book to send to the children of Uvalde, please join #600Books.
You can also contact andi@artsed4all.blog before June 12th to arrange for an order through the ArtsEd4All Bookshop.
A note: We added four special book titles to "Fill the World with Hope," the Bookshop list that we created for the 2022 Blake Mini Library Book Drive — El Niño, El Topo, El Zorro Y El Caballo, El Lórax, and Photographic: The Life of Graciela Iturbide and e.E's new book, Lupe Lopez: Rock Star Rules, which comes out on June 28th.