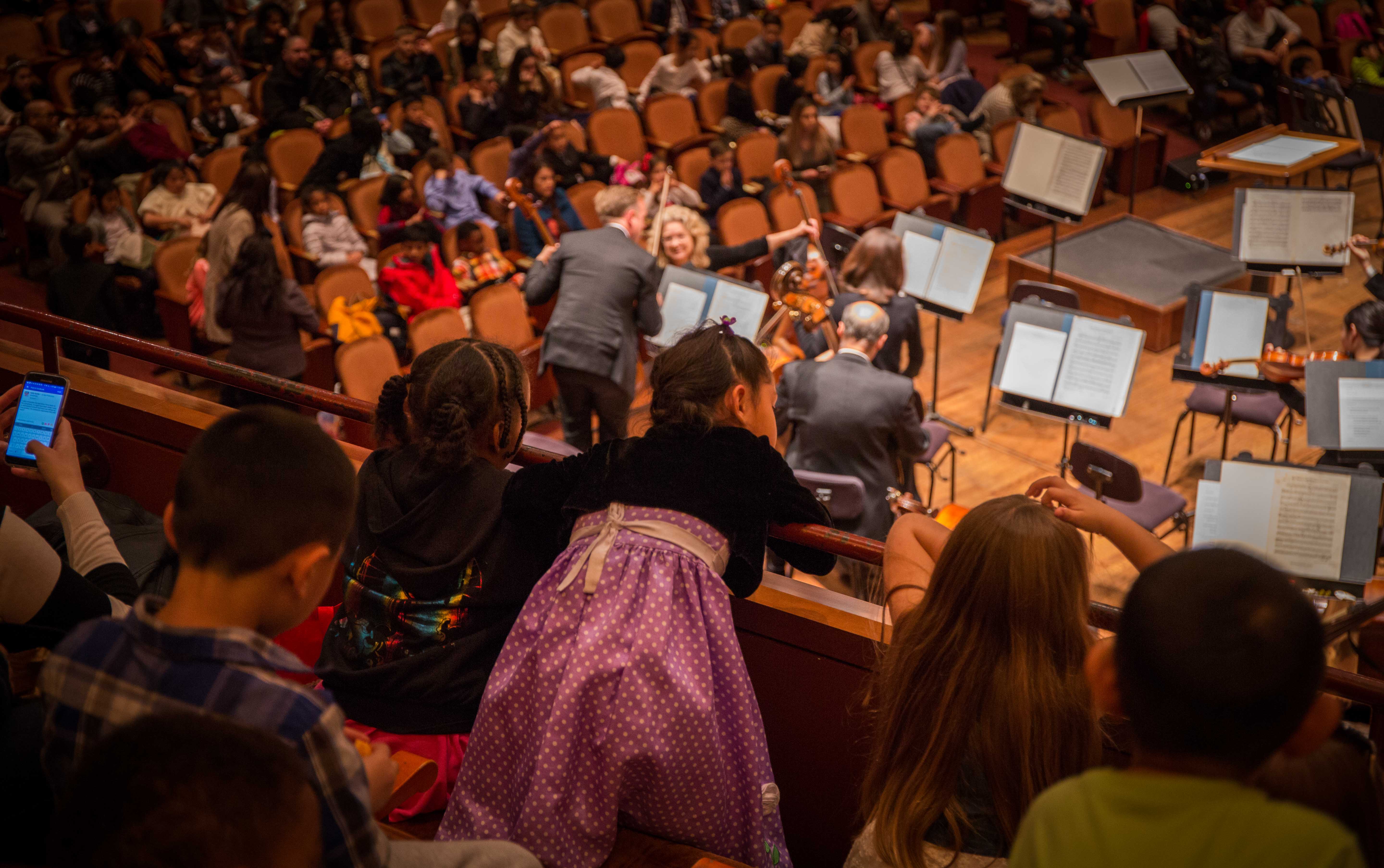 Established in 1988, San Francisco Symphony's Adventures in Music (AIM) is an interdisciplinary program that integrates live music performances and related music education experiences with everyday classroom lessons in language arts, social studies and other subjects. Designed in partnership with the SFUSD, Adventures in Music (AIM) ensures that every child in grades 1–5 in every San Francisco public elementary school receives equitable access to music education for five consecutive years. Presented free of charge to schools, AIM incorporates in-school ensemble performances, tailored classroom materials and resources, professional development for teachers, and a private concert by the San Francisco Symphony at Davies Symphony Hall. AIM is the most comprehensive music education program of its kind of any American symphony orchestra.
AIM 2019-2020 Theme: "Sounds of Music"
This year's AIM theme, "Sounds of Music," explores music and the science of sound in a cross-disciplinary manner. A teacher workshop on Thursday, October 10, 2019, introduced attendees to the basics of the AIM program and gave participants a chance to try some hands-on sound science with educators from the Exploratorium.
Exploratorium-designed classroom activities will invite students make their own instruments, from a Straw Oboe to a Water Xylophone. Playful science activities presented by the Exploratorium team included making a Head Harp with a piece of string, and exploring resonance with pasta & marshmallows and making sounds with a Siren Disk. Students who enjoy experimenting with sound have so many more Exploratorium Science Snacks to choose from!
Third, fourth and fifth grade students can keep school humming with their very own SF Symphony harmonica, while a SFS kazoo will be given to the first and second graders.
In-School Concerts & Classroom Resources
AIM I Program (3rd, 4th, and 5th grade)
AIM school visits: Four ensembles will play for AIM I students
Supersonic Sounds – Woodwind and Brass Quartet
Keys and Clefs – String and Keyboard Quartet
Music Makers and Shakers – Latin Percussion Ensemble
Percussion Party – Percussion Band
Along with a specially prepared AIM study guide for each student, classroom teachers will receive two books that are specially selected to support their students's exploration of music. Special editions of the resource books, created especially for the SF Symphony's AIM program, will be freely available online, without the need for a password. Students will be able to read and play music selections from classroom computers, and they can continue their exploration of music at home.
Those Amazing Musical Instruments by Genevieve Helsby
From the cello to the clarinet to the trumpet to the drums, Those Amazing Musical Instruments! takes readers on a musical tour, with notes on the history, construction and sounds of the instruments from each of the major instrument "families." They can see the parts of the violin working together, read about the flute in Mozart's "The Marriage of Figaro," or hear the different sounds of the tuba. Interactive content includes individual musical samples giving readers an audible taste of each instrument, as well as full orchestra pieces showing how they play together.
Sound (Boom Science by Georgia Amson-Bradshaw
Sounds that surround us can be vastly different. Still, the earsplitting blast of a car horn and the melodious chirp of a songbird travel to our ears in the exact same way. This eye-opening book explains how sound travels as well as the connection between sound and energy. Readers will delight in the vibrant panels and enlightening facts, which are conveyed in an accessible and compelling comic-book design. Quiz questions, puzzles, and humor abound in this must-have addition to any elementary science library or class.
AIM II PROGRAM (1st, 2nd GRADe)
AIM school visits: Four ensembles will play for AIM II students
Building Brass Trio – Brass Trio
Cascada de Flores – Traditional Mexican Ensemble
Friction Quartet –String Quartet
SoundScapes Trio – Woodwind and Harp Trio
My First Orchestra Book by Genevieve Helsby, Illustrated by Karin Eklund
An original, colorful, and lively approach to learning about music. With classical music tracks featuring every instrument in the orchestra, with clear audio examples. Includes 60 beautifully illustrated pages that children will love.
All About Sound (All About Science) by Angela Royston
This series introduces simple science topics using everyday objects and situations that readers can recognize in the world around them. This title looks at sound: how sounds are made, how they travel, how we hear them, what makes a sound high or low, loud or soft.
Adventures in Music Visual Arts Project
The San Francisco Symphony's Visual Arts Project encourages further engagement with the concert experience by inviting all students who attend the SFS performances to submit artwork based on any aspect of their visit to Davies Symphony Hall. Art can be based on any aspect of their trip to Davies Symphony Hall, from the building to the audience to the musicians to the music itself. Deadline for receipt of entries is April 24, 2020. Send to San Francisco Symphony, Visual Arts Project, Education Dept., 201 Van Ness Avenue, San Francisco, CA 94102.
Adventures In Music
Now in its 33rd year of partnership with the SFUSD during the 2019–20 season, AIM serves every child in grades one through five in every San Francisco public elementary school, as well as a number of the City's parochial and independent schools. AIM reaches 24,500 children and their teachers annually, and is presented to schools absolutely free of charge. Since its inception in 1988, more than 150,000 children have gone through the AIM program.
"…Children must receive musical instruction as naturally as food, and with as much pleasure as they derive from a baseball game. And this must happen from the beginning of their school lives."

— Leonard Bernstein, New York City, 1977
Testimony before the House Subcommittee on Select Education regarding a bill calling for a White House Conference on the Arts
In 2020, San Francisco Symphony conductor Michael Tilson Thomas, who has served as music director since 1995, is scheduled to retire at the end of his 25th season, to be succeeded by Esa-Pekka Salonen.